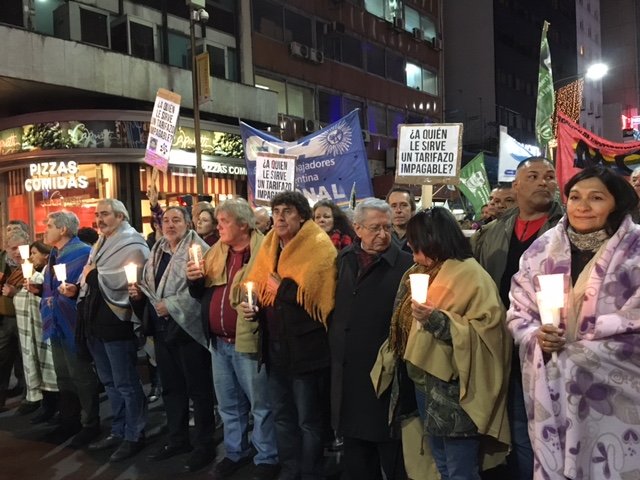 On Wednesday 29th June, #Frazadazo (the name of the demonstration in which people took blankets with them to simbolize how cold they were) took place at the Obelisk in Buenos Aires City as a way of protest against the rate hikes in electricity and gas services.
The protest was called by Pablo Micheli, Secretary General of the Autonomous CTA and many other political, social, as well as grassroots organizations joined the initiative, such as, "Federación de Trabajadores de la energía de la República Argentina (FeTERA)", "Asamblea de La Alameda", "Movimiento Emancipador", "La Simón Bolívar", "Los Pibes", "Movimiento Socialista de los Trabajadores", and the "Movimiento de Ocupantes e Inquilinos".
Ahora marchando al Obelisco #Frazadazo #NoAlTarifazo pic.twitter.com/mA49VaHwBT

— Pablo Micheli (@MicheliPablo) 29 de junio de 2016
"The situation is getting worse. The government is trying to come up with alternatives to ease the effects of the rate hikes, like the 400% limit to the rise in gas bills until the end of the year, but in the meantime wages only increase 30% and this is paid in three instalments," Micheli said.
Previously, José Rigane, FeTERA's Secretary General and Héctor Polino (Consumidores Libres) had expressed their worry about the consequences of the price hikes and said they were unnecessary because "there is no doubt that Argentina can enjoy absolute energy sovereignty without this kind of measures".
Peralta @CTACapital
"El tarifazo porque va a llevar a la pobreza a un montón de familias"https://t.co/xna7OsdN9A pic.twitter.com/0spia1m3Kq

— FeTERA-CTA (@FeTERAOFICIAL) 30 de junio de 2016
During the demonstration, a statement was read in which the organizations explained how the exorbitant prices of public services and other fares are devastating the economy of the less privileged population.
A compromise was also made that demonstrations and protests will continue "until the government decides to reverse all these anti-grass roots measures."
Argentina#Frazadazo contra el tarifazo de Macri en los servicioshttps://t.co/ef8kboxS2Y@MicheliPablo @RiganeJose pic.twitter.com/5z4DnxLA7y

— ESNA (@ESNAsindical) 30 de junio de 2016