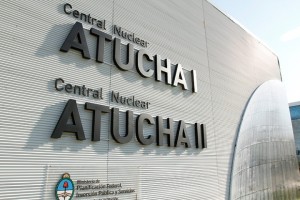 Last week it was known that on May 9 at the Atucha complex the life of our colleague Damián Straschenco, Deputy Secretary of the Luz y Fuerza de Zárate Union, was attacked by placing contaminated heavy water on his water bottle.
We are grateful that journalists have helped to disseminate the complaint made by the union and turned it into a national agenda item.
But far from being a movie, as some media (not all) liked to tell this "story", what happened on May 9 with Straschenco was in fact a criminal act and a serious case of political and union persecution.
We want to stress this out of respect for our comrade Damián Straschenco and we join the call for clarification made by him, his family, union colleagues and workers of Atucha in general.
This criminal act has no precedents in the 60-year history of nuclear activity in our country. This event unfortunately affected the safety of the nuclear sector and Argentina must account for what happened to the authorities of the international bodies of nuclear activity, such as the World Association of Nuclear Operators (WANO).
What happened is as criminal as it is boorish, because the subject or subjects who moved the contaminated substance had to – at least – violate several nuclear security barriers. In addition, they had to cross the 200 meters of distance that separate the restricted area of the nuclear power station (where the reactor is located) from where the Luz y Fuerza union's office is located, where the attempt took place.
Ruling out the possibility of a human error or a fortuitous event, we must speak of a criminal act planned and executed against comrade Straschenco.
Accessing the substance of the reactor with which the attack was perpetrated is really difficult because it is located in the restricted area of Atucha and it is not possible for just anybody to get to it, or it should not be.
We do not know why this criminal act was carried out. Responsibly, the union did not issue any hypothesis because it is justice that should investigate.
The Luz y Fuerza de Zárate union filed a criminal complaint with the Federal Court of Campana, headed by Judge Adrián González Charvay, which was labeled as "attempted homicide."
We need for justice to investigate this attack so that we will soon know who they were and why did they do it.
We publicly demand compromise from the competent nuclear authorities in this sensitive matter to provide useful and accurate information in a timely manner so that justice advances in this investigation.
Specifically, we demand compromise from the authorities that run the company Nucleoeléctrica Argentina Sociedad Anónima (NASA), whose president is engineer Rubén Semmoloni; from the Autoridad Regulatoria Nuclear (ARN), of which the engineer Néstor Masriera is in charge; from the Undersecretary of Nuclear Energy of the Nation, Julian Gadano; and from the Minister of Energy and Mining, Juan José Aranguren.
What FeTERA -a federation to which the Luz y Fuerza de Zárate union belongs, along with the CTA – Autónoma- demands is for this to be thoroughly investigated.
We demand that the investigation be speeded up and that competent authorities bring to justice all information, videos, documentation, entry and exit records, controls, medical reports, and / or any other type of data required by justice.
We ask for this criminal offense to be clarified as soon as possible not only because they tried to kill our comrade Damián Straschenco, but also because it is a very sensitive issue at a national and international level: they violated the security systems of a nuclear power plant to kill a person.
We join the idea of Luz y Fuerza de Zárate of continuing to defend the nuclear activity in the country, in spite of this attack.
Finally, we await good news about comrade Damián Straschenco's health and we send him a strong embrace from all the Fetera and the CTA Autónoma.
Mar del Plata, May 31, 2017
José Rigane | General Secretary of FeTERA and Deputy Secretary of the CTA Autónoma
To read it in Spanish, click here