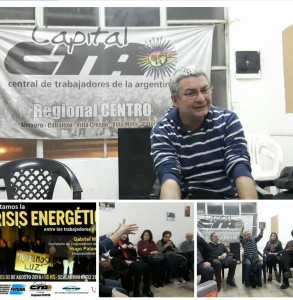 The debate "Discutamos la crisis energética entre trabajadores y usuarios" (Workers and costumers discuss the energy crisis) took place in the City of Buenos Aires at the offices of the CTA-A Capital Regional Centro. The key speakers were Gabriel Martínez from FeTERA and Hugo Palamedessi from MORENO and also present were José Rigane, Deputy Secretary General of the CTA Autónoma, José Pepe Peralta, Secretary General of the CTA Capital, and Ramón Gómez Mederos, Deputy Secretary General of the CTA in San Juan.
According to Gabriel Martínez "we need to rise up against the rate hikes; we must participate in the decision-making process." Martínez also added that "public services are a political, not technical, problem."
Other participants also raised their voice and asked questions such as: "What happens with the companies' profits? And, "Is there any experience of regulation of companies?"
In this regard, Martínez replied that "there has not been any investment, and the expectation is that there will be more power cuts and probably each stopgap solution will guarantee more or less six month of power supply, but after all, everything will be the same, and the real problem will not be solved."
"The issue is not how much energy we have in the country, but what do we use it for or who are those being benefited," said Gómez Mederos from San Juan.
These and other arguments emerged from the conversation in which different social and workers organizations as well as neighbours discussed how legitimate these rate hikes are and the role of private companies in the supply of public services.