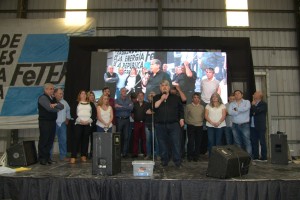 The Luz y Fuerza de Mar del Plata trade union held on Saturday 28 October its 74th anniversary party. Like every year, about 900 people attended the party to celebrate the union's anniversary, which is on October 8th.
The Luz y Fuerza de Mar del Plata family met in the Villa Marista facilities to share this multitudinous encounter, which involved workers from the Mar del Plata city and all the delegations of the Buenos Aires province where the union has representation.
In addition, there were representatives of other local and national union and social organizations, special guests, journalists and artists.
The meeting began with the Argentine National Anthem and the March of Luz y Fuerza. After lunch, the union's General Secretary, José Rigane, accompanied by the entire board of directors (Comisión Directiva), made a short speech:
"We are going through complicated times for the working class but these are situations we have lived before, and we know how to cope with it. We must emphasize that neither the workers nor the workers' movement are responsible for the situation in the country. It is not true that we cannot get out of this crisis because of workers. We must demonstrate that the institutions that represent workers, if they are properly led, well administered and honestly represented and the decisions of the base are respected, then they cannot be a problem for the development of any country. On the contrary, the country will be able to develop because of the organization of its workers."