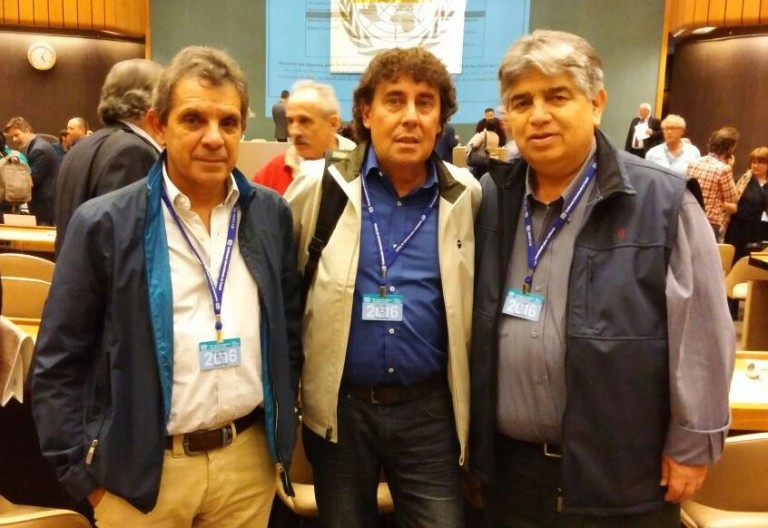 The Autonomous Argentine Workers' Central Union (CTA-A) is currently participating in the 105th Annual Conference of the International Labour Organization (ILO) in Geneva, Switzerland. The delegation of the CTA-A is led by Pablo Micheli, Secretary General of the CTA-A, José Rigane, Assistant Secretary General, and Rubén Garrido, Director of International Relations.
During his speech at one of the plenary sessions of the Conference, Micheli denounced Argentina's labour crisis and the situation of the thousands of fired workers in the country. He also talked about the austerity measures suffered by the working people, and emphasized: "Even though we are going through times of great distress with poverty rising as well as unemployment and the brutal economic adjustment that has been carried out, including the rate hikes in public services, it is also true that the umbrella unions in Argentina, previously distant from each other, agreed on a great day of action last April 29th."
According to the ILO, from 30 May to 10 June, Government, Employers' and Workers' representatives from 187 member States discuss a series of world of work issues including global supply chains; decent work for peace, security and disaster resilience, as well as the impact of the ILO Declaration on Social Justice for a Fair Globalization. Delegates will also consider amendments to the Code of the Maritime Labour Convention and review the report of the Director-General on poverty.
The CTA-Autonomous has been actively participating every year in representation of Argentine workers.
ILO Director-General, Guy Ryder, spoke during his opening remarks about the necessity of taking responsibility and promoting social justice. "Inequality, marginalization and division are not phenomena to which the world of work must react but the consequence of what we do, how we behave, what we decide," he stressed.