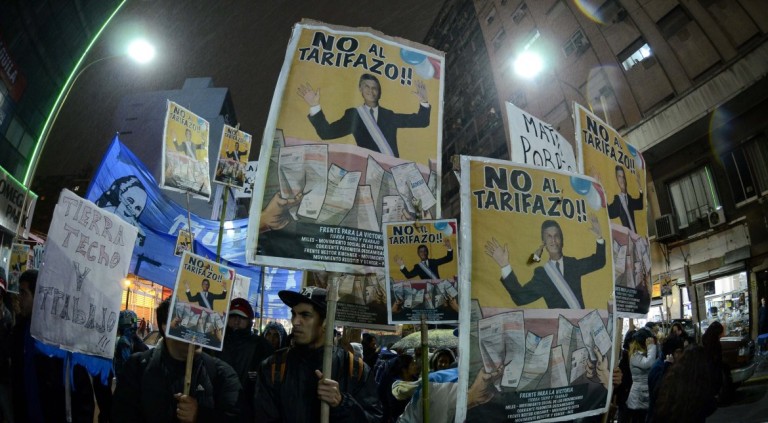 Thousands of people throughout Argentina took to the streets on Thursday to protest against the gas, water and electricity steep rate hike instituted by Mauricio Macri's administration.
Honking horns, banging pots (cacerolazo), blowing whistles, the night in Buenos Aires and in dozens of locations all over the country was filled with a great "noise" ("ruidazo") against the adjustment policies promoted by the government. The protest extended until midnight, despite the bad weather.
The protests were mainly against the excessive rises imposed by the government in public services, but the people along with different social organizations also demonstrated against the loss of purchasing power of wages.
In Buenos Aires, the main demonstrations took place at the Obelisk, in front of the Olivos presidential mansion and in the corners of San Juan and Boedo, and Corrientes and Medrano. But there were also concentrations in virtually every neighbourhood of the city, as well as in the National Congress, and along the Pellegrini street (parallel to 9 de Julio Avenue), hundreds of protesters marched holding an 100 meters long Argentina flag.
The pot-banging was also felt in the rest of the country. There were protests in almost all cities of the Province of Buenos Aires, as well as in La Plata, Córdoba, Mendoza, Neuquén, Rosario, San Luis, Viedma (Río Negro).
"This is the people feeling tired of not being heard," said Juan Milito from Centro Unión Almaceneros, in Rosario.
Juan José Sisca, from APYME (Assembly of Small and Middle-Sized
Entrepreneurs) also in Rosario, said that he is "expecting that the Supreme Court will deliver justice and tariffs will go back to the previous prices."
By resolutions of the Ministry of Energy and Mining, first arrived the gas bills, with charges representing an increase up to 2,200 percent. Electricity rose by 700 percent for individuals.
After several courts suspended, protected by the law, the excessive increases, the government reduced the rate to a 400 percent increase, but the Senate considered it insufficient and adopted four resolutions to suspend the application of the rate hike, while the Supreme Court requested the national executive power to provide detailed information on the matter.