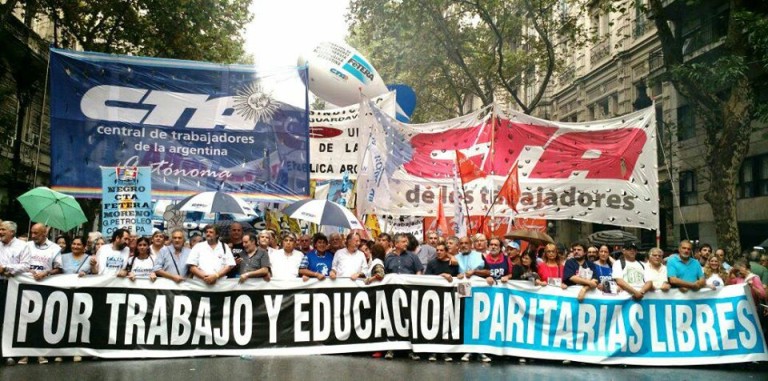 On March 30th, both CTA umbrella unions, CTA Autónoma and CTA de los Trabajadores, mobilized along other unions to the Plaza de Mayo to protest agains Mauricio Macri's austerity policies.
The CTA decided to cancel the strike planned for that day, but ratified the decision to march and its support to the strike scheduled for April 6, which will be led by the General Confederation of Labor (CGT).
Pablo Michelli, leader of the CTA Autónoma, told La Red radio station that the Labor Minister, Jorge Triaca, 'does not receive anyone, not even phone calls. We have not had any contact for more than six months,' he said.
The discomfort is felt in an Argentina that in recent months has been marked by inflation, the closure of several factories due to the fall in imports, unemployment and the rate hikes in basic services.
José Rigane Deputy Secretary General of the CTA Autónoma said that "many social organizations decided to strike, but we will concentrate on Plaza de Mayo".
Enorme jornada de las 2 CTA de hoy #30M
Unidad de acción contra el ajuste!!! pic.twitter.com/ySrQ669r0b

— José Rigane (@RiganeJose) 30 de marzo de 2017
The leader recalled that establishing March 30 as a day of struggle was not an unmovable decision, which allowed them to coordinate with other unions and social movements for future mobilizations. For that reason they decided to carry out a general strike on April 6 along with the CGT. "We want the government to modify its austerity policy. We want free collective bargaining negotiations," he said when recalling the reasons for the strike, adding that pensions and minimum wage do not currently reach 8000 pesos.
"The government has been making decisions that are far from democracy. We live in an apparent democracy, which already has established rules and leads to the loss of rights," Rigane said. "We are not going against the government, but against the adjustment policies implemented by the Government. We act in self-defense," he concluded.