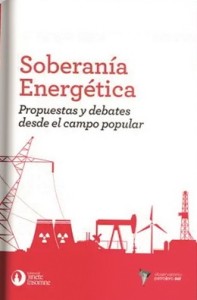 With the intention of debating and looking for alternatives from the popular sectors, the book "Soberanía energética. Propuestas y debates desde el campo popular" ("Energy sovereignty. Proposals and debates from popular sectors") was launched on May 10th at the headquarters of the Luz y Fuerza de Mar del Plata trade union, in Mar del Plata.
The event was attended by two of the book's authors: Silvana Buján, science and environmental journalist as well as Director of the NGO "Bios", and Gabriel Martínez, Organization Secretary of FeTERA.
Martínez highlighted that "the book is a result of the joint work of ten authors with relatively different views on energy policy, but all of them wish to discuss from the perspective of the popular sectors."
"We start from the basis that energy is a human right, it is a common good, and a social good. We believe that it should not be considered as a commodity because energy is part of the basic needs of life and its availability, especially for domestic use, marks a minimum required for a decent life in the XXI century," he added.
Gabriel Martínez also stressed that "families that can not access energy, either because of its price or because electricity or gas lines do not reach them, are clearly marginalized and not included in the life of the 21st century".
The book "Soberanía energética…" is a compilation of 10 studies by people who who are also part of the struggles for energy, both in unions and parties as well as in socio-environmental movements. Thus, it seeks to respond to the challenge that energy raises to us in this critical moment: to walk at the same time the path of the construction of an alternative proposal, together with the political force that sustains and implements this alternative.