As to the pension plan, the most urgent thing to resolve is an Emergency Increase to be incorporated to the pension payment at all scales and, on that basis, apply the successive updgrades.
We intend that no retirement be lower than the Basic Basket of an Elderly, updated every six months by the City's Ombudsman's Office for the Third Age, which currently amounts to $ 40,000 -while the minimum retirement is $ 13,646 in the pocket- which covers only 34 % of that basic basket. More than 70% of retirements and pensions are below basic subsistence needs.
Both retirements and pensions are not a subsidy, they are the recovery of a salary or deferred income given to the State during the entire active life.
We demand precise definitions from the legislative representatives for the recovery of the Pension System from its progressive emptying, ending unregistered work, unemployment, the decrease of employer contributions -in particular of large companies- and of state contributions.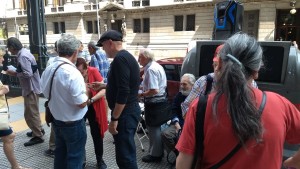 At the same time we demand a thorough investigation of the embezzlement of the Sustainability Guarantee Fund, which comes from the contribution of active workers and is used by governments for purposes outside their origin and destination. It is an anti-cyclical fund for the payment of retirements and pensions and has been reduced to a third in the last four years. We will present our 3 bills again in the National Congress (after updating them with trade unions, retirees and social organizations and specialists in the field), which are:
– A law for a social pension system
– A law for the standardization of the INSSPJ (PAMI).
– A housing law (using the "comodato" modality) for pensioners and retirees
This is a year to fight for a true public pension system, of distribution, assisted, and intergenerational and on that basis debate financing and sustainability, dealing with the requirements of the IMF, which is a representative of both international and Argentine large economic groups, which led to the total or partial privatization of pensions -like the infamous AFJP- against which the working class in our America, Paris, Spain, Greece, Europe and the world, resists.
National Coordinator of Pensioners and Retirees of the Argentine Republic.
To read the original article in Spanish, click here.