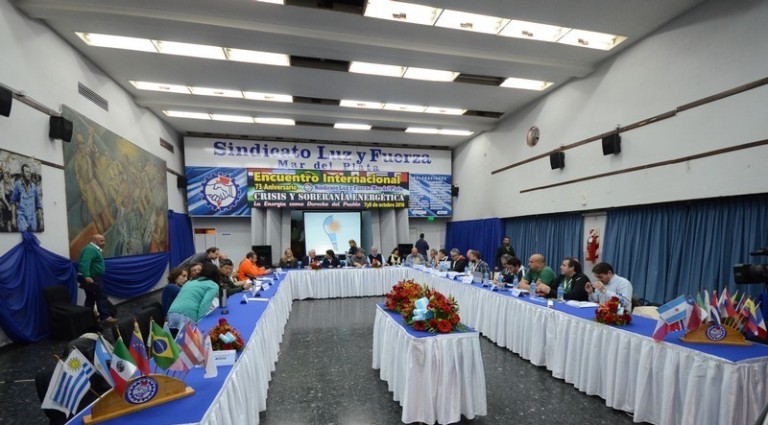 The International Conference "Crisis and Energy Sovereignty" took place on October 7-8 in the city of Mar del Plata, Buenos Aires. One of the main highlights of this conference was the implementation of neoliberalism in the energy sector in Latin America, the Caribbean and the world.
Participants came from France, Mexico, Puerto Rico, Brazil, Chile, Uruguay and Argentina.
On behalf of the host country were Pablo Micheli, Secretary General of the CTA Autónoma (CTA-A) and José Rigane, Deputy Secretary General of the CTA-A and Secretary General of the energy union Luz y Fuerza de Mar del Plata and FeTERA.
International Unity of Action
The meeting took place, in the context of the 73rd anniversary of the energy union Luz y Fuerza de Mar del Plata. The topics encompassed were: the implementation of neoliberal policies in the energy sector as a global phenomenon, despite each country's specificities; the different cases of privatization of state-owned companies, tariff increases, energy poverty, workers' rights, union models and the creation of labour movement's instruments for social change. Another issue was energy development as a social good and a human right.
Rigane explained that this conference was organized with the aim of proposing "a joint initiative with all the representatives of the participating countries to be able to transform in the energy field. We know that in order to aspire to a better life, we must ensure access to energy. This meeting is also a chance to know and meet the problems of the labour movement in all countries that are present."
He also said that "the energy situation in Latin-American countries and in some European countries is similar, although not exactly the same, because we live in a context of neoliberal policies all around the world, with tremendous environmental damage and overexploitation of each country's natural resources. We need to establish a common policy among all of our countries and for that we must be aware of what is happening and see how workers in the energy sector can contribute to initiatives that guarantee popular sovereignty and energy sovereignty."
Pablo Micheli, for his part, said that "this debate on energy surely helps to strengthen a strong proposal created from the point of view of workers for Argentina, but also for Latin America and the Caribbean, and even for some countries Europe on these issues of energy, to improve the quality of life and for a fairer distribution of wealth."
Photo Gallery
Among international participants were: Antonio Goulart (Brazil – Petrobras); Gerson Castellano (Brazil – Fed. Unica do Petroleiros); Humberto Montes de Oca (Mexico  – Sindicato Mexicano de Electricistas); Mario Oyarzum and Hugo Navarro Torres (Chile – Electricity Sector); Sebastian Viscuso (France – CGT); Marc Bontemps (France – FNME-CGT); Ángel Jaramillo (Puerto Rico – UTIER); Gabriel Portillo and Cecilia Versellino (Uruguay – Frente Sindical L. Duarte / PIT-CNT); Marcelo Elizalde, Gabriel Soto and Jorge Beron (Uruguay – AUTE); Oscar Duarte, Dimitri Guchin, Álvarez de la Cruz and Gustavo Bello (Uruguay – FANCAP); Martín Guerra and Pablo Sequeira (Uruguay – Gas Union).
Among Argentine participants were Pablo Micheli (Secretary General CTA-A) and José Rigane (Secretary General of FETERA and Deputy Secretary General of the CTA-A), as well as Julio Gambina (IEF-CTA-A and FISyP), Julio Acosta (Secretary General CTA-A La Pampa), Hugo Blasco (FJA-CTA-A), Guillermo Díaz (Directive Board CTA-A), Gabriel Martínez (FeTERA-CTA-A), Romina Quintas (Luz y Fuerza de Mar del Plata), Ruben Chirizola (Luz y Fuerza de Mar del Plata), Guillermo Albanese (Luz y Fuerza de Mar del Plata), Víctor Mendibil (President of the Comisión Provincial por la Memoria), Laura Vázquez (CTA-A Prov. Bs. As. and Emancipación Sur), Ximena Rattoni (APJ-GAS, CTA-A), Gustavo Lahoud (Researcher at the Universidad de El Salvador and the Fundación D+D), Paola Albarello (Communication CTA-A) and Mariano Pasi (IEF-CTA-A), etc.