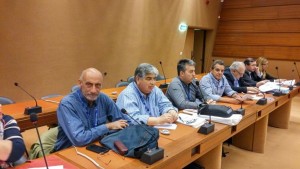 The CTA Autónoma's (CTAA) delegation headed by Deputy Secretary José Rigane, along with with a representation of the CTA de los Trabajadores (CTAT) headed by its Secretary of International Relations, Roberto Baradel, met with ILO's Director General, Guy Ryder at the 106th ILO Conference.
Both delegations were accompanied by the CTAA Secretary of Human Rights, Hugo Blasco, CTAA Director of International Relations, Rubén Garrido, Secretary General of the CTAA Tierra del Fuego, Horacio Catena and the CTAA Legal Counsel, Dr. Jaime Nuguer.
During this meeting the unions' representatives raised to Ryder the serious situation the Argentine labor movement is currently undergoing as a consequence of the policies carried out by Mauricio Macri's government, endorsed almost in its entirety by provincial governors.
In this sense, many cases were denounced: the illegal and arbitrary intervention in unions' life by the Ministry of Labor; the intervention in the guild of Judiciales of the Mendoza province; the non-granting of trade union legal status to the CTA-A and the FETERA; the repression and criminalization of social protest, such as the case of Milagro Sala, arbitrarily detained on January 2016, the case of the Deputy Secretary of CTA-A Misiones, Rubén Ortíz, persecuted and threatened with death on several occasions without any State guarantee, the cases of Rodolfo Aguiar and Aldo Capretti of ATE (Association of State Workers) and CTA-A Rio Negro, both judicially processed, and the different repressions suffered by fellow workers in Santa Cruz during their struggles, among other issues. In this context, a document was also submitted by the CTA-A Tierra del Fuego, which details the situation of workers in the southern province.
At the end of the meeting, both CTAs submitted a joint document describing and denouncing each point being claimed.