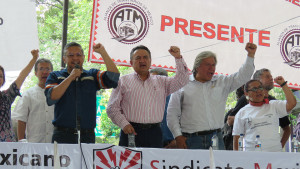 The Federation of Energy Workers of the Republic of Argentina (FeTERA) expresses its unconditional support for the long and exemplary struggle of the SME (Mexican Electricians Union) and, in particular, we send our solidarity with the protest that it currently carries out claiming the fulfilment of their just demands and of the agreements reached between the Union and the Federal Government.
We demand the immediate fulfillment of the agreements and commitments made with the SME, and we send a warm embrace from the South to our brother union and its workers.
To read the declaration of the "Forum of fraternal solidarity with the SME" in Spanish, click here.