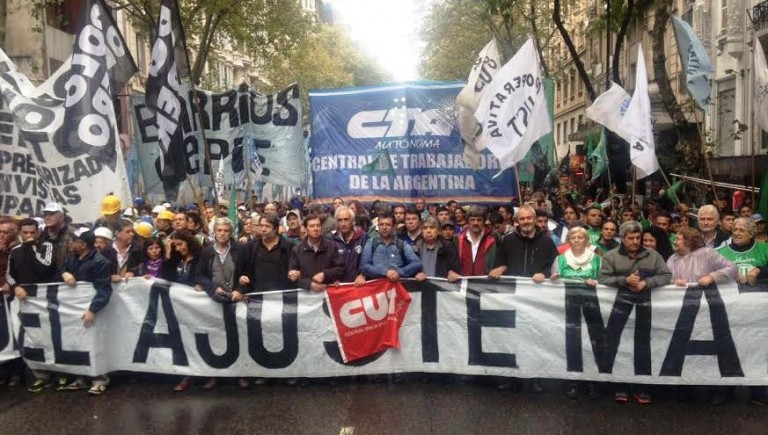 During the CTA march in Plaza de Mayo on April 19th, José Rigane, FETERA's Secretary General and Assistant Secretary of the Autonomous Argentine Workers' Central Union (CTA-A), told surtidores.com.ar, he was very concerned about current fuel prices, the natural gas crisis and the government's energy policy.
As part of the National Day of Struggle the CTA carried out a general strike against the austerity policy of Mauricio Macri's government.
José Rigane, said: "The problem is complicated. Companies are demanding higher prices for the oil barrel, because they say subsidy is not enough and this implies a risk for oil workers, especially in the South."
The union leader also noted that "the rise in prices has a big impact on the spending power of workers and households". He also explained that "oil in Argentina is subsidized, so the price paid by customers at filling stations should not increase."
"However", he claimed "there's already been an increase of 20% in fuels and it is expected that, later this year, it will be around 30%, despite the fact that global oil prices continue downtrend." 
He warned that "they are importing one million barrels of oil, the cost of production remains the same, but users are now paying higher bills."
While analyzing government policies on energy, he said "we think is right that the energy emergency has been recognized, but we do not share the point of view that the rate increase will solve the fuel supply problem." 
Rigane also criticized the fact that despite the rate hikes, companies do not provide information about investment planning, but continue to profit from price increases. "Production and growth prospects are not clear, and all we see are just the rate increases," he said.
Referring to the natural gas crisis that followed the changes in tariffs and sale prices, Rigane said that gas, just like energy, is a social good and cannot be considered as a commodity.
He emphasized how "very worring this is for taxi drivers, remiseros, transporters and traveling salesmen," and considered that "it is a very severe blow to the economy of these sectors." In that regard, he called for "a responsible reaction of the people in order to prevent this situation from continuing to happen." 
He stated: "Global oil prices continue to decline, and here all we see are increasing oil prices. First, it was the gasoline and diesel, and now, it is also compressed natural gas. Workers are always the ones to pay the consequences of austerity," he said. 
Rigane also criticized the actions of the Ministry of Energy and Mining led by Juan José Aranguren, and denounced that "the Minister set up a team with the main representatives of multinational oil companies. There is no chance we will get closer to the idea that energy is a social good, a human right, because he (the minister) talks about recovering regulatory frameworks but with the idea of recovering competition."
"It's the same saying that he wants to increase market profits. With Aranguren, we move further away from the possibility of not seeing energy as a commodity anymore, but as a social good instead. Aranguren is aiming at serving the interests of multinational groups, once again."